The Best of Estes Park: Where My Heart Is At Home
I want to start this post with a backstory: I sure have been lucky. I am the luckiest, most fortunate girl this side of the Mississippi (possibly even the whole US of A). I truly and honestly never would have never discovered Estes Park (and thus the whole beauty of Colorado) without my gracious, giving, altruistic, benevolent family: Aunt Laurie, Uncle Darrell, Jenn and of course... Chico. They not only introduced my family and me to this glorious place, but have allowed us family vacations, restorative weekends away with friends, a studio for photography and music alike and an escape and solace from the city life that, even in Denver, can get to be just too much. Every time I am here I try to express how much I truly am thankful and grateful to my family and every time I am here I can never find the right words, words that are grand enough, words that mean enough to express my thanks. So know, Aunt Laurie, Uncle Darrell, Jenn and Chico, that I am forever grateful beyond words... And I know you've heard it 100 times, and you will never stop hearing it. Thank you.
And now for the best of...
Best Short Hike: Emerald Lake
Distance: Roundtrip 3.6 miles
Rating: Easy
Getting there: Head into the park early (or risk having to park in the overflow lot and taking a bus!) and park at the Bear Lake parking lot. From the trailhead, walk to your left and follow the trail up and to the right. (Trail is well marked!)
This is a supremely quintessential Estes trail; views of Longs Peaks, lakes abound, and so much forest to soak in. This is the trail I take out of town guests on as you truly get the most bang for your buck. I don't want to spoil any of its splendor (there is beauty in seeing and experiencing without any preconceived notions) but I promise it is a beautiful trail and with the distance being so short (and the views being very prime!) you have enough time to poke around town or drive around the park.
Best Scenic Drive: Trail Ridge Road
Trail Ridge Road is a stretch of Highway 34 that runs from Estes Park to Grand Lake, CO and opened in July of 1931. This stretch of road was meant to counter the faults of Old Fall River Road and drive more visitors into the park. The road was built with the Alpine Tundra in mind and construction interfered little with the landscape surrounding.
Not for the faint of heart, the height of Trail Ridge Road peaks at 12,183 ft. The road crosses the Continental Divide at Milner Pass, which reaches an altitude of 10,758 ft. There are numerous opportunities to pull off and soak up the world down below you. (If you are scared of heights, this may serve as a stress break... if you're driving this is your chance to actually soak in the views rather than maintaining focus on the road.) Make a stop at the Alpine Visitors Center (open 9-5 mid-June through May) which features a gift shop, bookstore, educational displays and the only restaurant in the park. (Their coffee might be actual crack - strong enough to kick you in the butt and then some... Though this may just be the altitude.) And at 11,796 ft, it is the highest visitor center in the National Park Service. Be sure to visit in the summer months as the 48 miles stretch of road is closed in the winter (due to treacherous snow, wind and changing weather.
Best Coffee Shop: Inkwell and Brew
Located downtown Estes Park Inkwell and Brew offers the best cup o' joe in town. Inkwell and Brew serves up a mean traditional cappuccino, cortado, and pour-over coffee. They also serve real cold brew coffee, I am talking about a slow drip per second. If coffee isn't your thing they offer loose leaf tea and an assortment of baked goods and sandwiches, some of which are gluten-free. If you know me at all you know that my favorite go-to is the "provencal" - a lavender and honey latte.
In addition to finely crafted craft coffee, Inkwell serves as a paperie, complete with leather bound journals, hand-painted cards, wrapping paper, fountain pens and so on.
You can enjoy writing in your new journal and sipping your coffee on their outside patio while listening to the river run by. Or, in the winter months, head upstairs to what I like to call their "living room". If you are lucky enough you might just snag the sofa in front of the fireplace to warm you from the outside in.
Best Beer Menu: The Barrel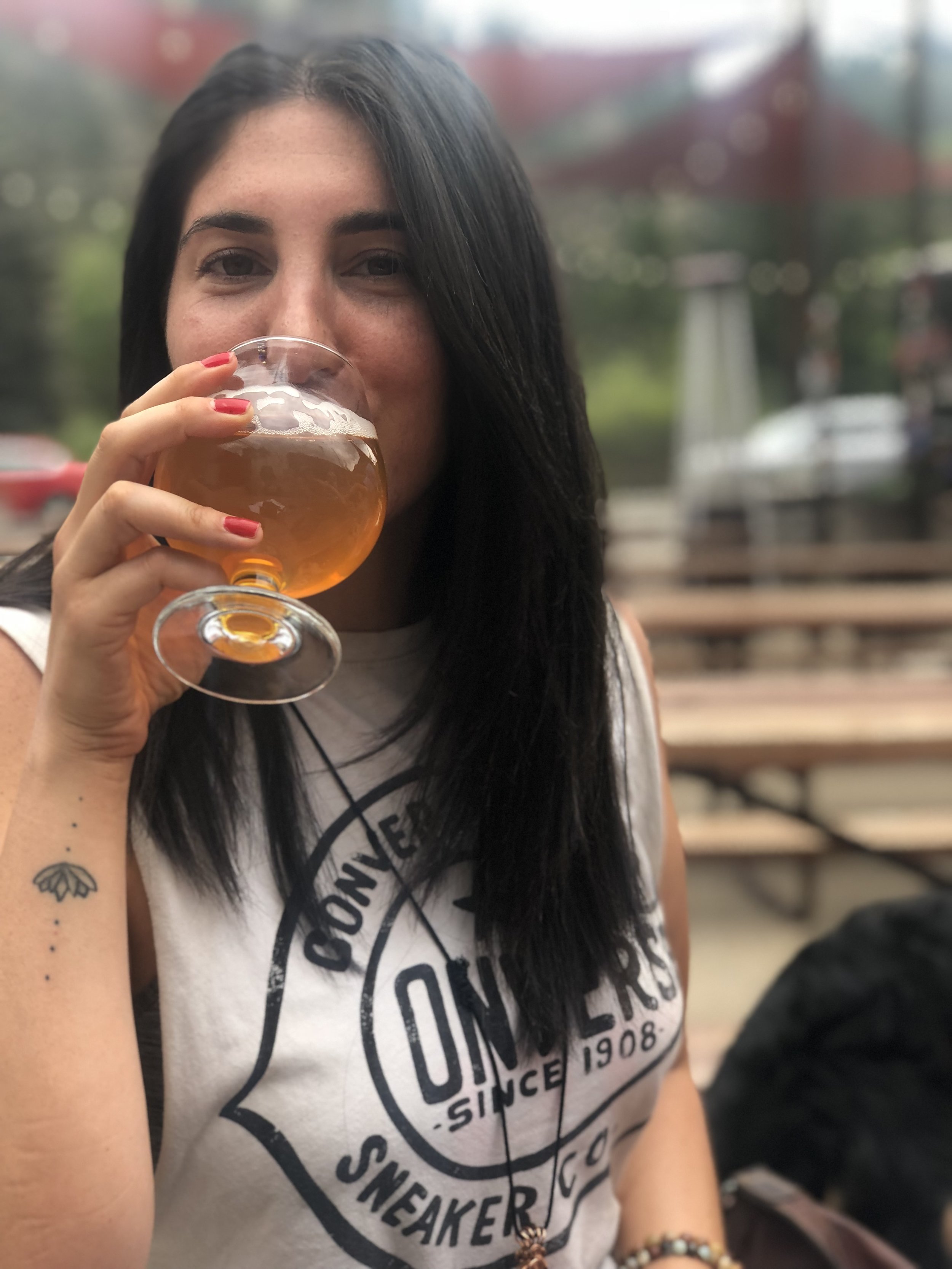 My god, I have loved this place since it opened a few years ago, and heck, I still love it now. You can find The Barrel driving into (or out of, I suppose) Estes Park at 251 Moraine Avenue. This place is thee place to grab a post-hike beer and maybe even some post-hike bites. If you like beer, if you like good beer, if you like having a choice of any type of beer your little heart could desire, this is the place for you. They've got sours, they've got ciders, they've got IPAs. And I am not talking a couple of each, I am talking about minimum 50 taps of beer. (And not just any beer... but good ****ing beer.)
Foodwise, The Barrel rotates through locally based food trucks. I was lucky enough to hop in on a day when Roaming Rations was posted up. Let me tell you that there is nothing better than post-hike than Roaming Rations snack box and freedom fries. You know those fries that are fried to the freshest of crisps, seasoned to perfection and at the same time melt in your mouth? Yep, these are the fries they serve up. Their snack box featuring cheese and meat and crackers and nuts was gone way faster than I am willing to admit.
I wish I had more of a story on The Barrel, for real. All I really know and all you really NEED to know is that they have some DAMN good beer. (And some damn good food.) And will be opening a venue right next door very soon. And when they do... you will know where to find me.
Eats: Top 3
1. Bird and Jim - Bird and Jim opened a few years ago after Melissa Strong, a veteran of the Estes food scene, realize Estes Park was missing something. Together her, the sommlier Mark, and Chef Ethan Brown found whats missing and, I believe, found their niche. This place is the definition of modern mountain cuisine. Now open for brunch, lunch and dinner, Bird and Jim serves classic mountain meals with a twist. Take their Mountain Mac burger, a double layer of 4 oz grass fed beef patties with their Magic Sauce. Or, if that isn't up your alley, try the Chicken Carbonara, a handmade gnocci with smoked bacon and snap peas. If you are craving something a bit lighter I suggest the grapefruit and arugula salad - a refreshing starter or a delicious whole plate.
2. Nepal's Cafe - If you like Nepalese food, this is the spot. Whenever I come to Estes Park on a solo trip, this is my go-to spot to eat in or to go. I order a few dishes and I single handedly always eat the entire dish and find myself using my fingers to lick out the leftover sauces and spices that my garlic naan could not soak up. Try the Chicken Tikka Masala, Saag Paneer and the Garlic Naan if you are eating for one. If you are craving more, start with the samosas and finish with Gulab Jaman. (Because everyone deserves dessert.)
3. Ed's Cantina - Ed's is my favorite "mexican" joint in town. Located right on the river, this place is full of a fun and light ambiance and is very family friendly. They have a wonderful covered patio out back, perfect for early evening dinner and drinks. I have been here numerous times and rarely every break my habit of ordering bison enchiladas because they are so darn good. Until recently, I hadn't tried anything else on the menu. My last visit I strayed from my usual and ordered the street corn (do yourself a favor, my god, trust me on this one) and the chicken fajitas. While the fajitas are average, they are exactly what your stomach needs after a long day on the trail and, on the plus side, servings are large enough to take home leftovers for when you have the munchies later. Ed's offers a plethora of beverages; beer, wine, margaritas, they have it all. I am normally not a margarita girl, but I would drink their avocado margaritas all day.
Bonus! Best Tattoo Shop: Elevated Tattoo
Tattoos are not for everyone but this shop is for everyone who is all for tattoos. I found this place through an easy and spur of the moment google search. I had been wanting a tattoo of an alpaca (yes, you read that right!) for a few years and on a whim decided to message the shop and see if they had any openings for the weekend that I'd be up there. They did, and yes, now I have my alpaca.
But this shop provides more than just availability for whims. Elevated Tattoo delivers on beautiful tattoos and on customer service. Run by a father and son, this place is full of life. These two are a hoot. Where normally I am sitting in silence while cringing in pain, these boys have me laughing and shooting the s*** the whole time through (to the point where I am sad to get out of the chair). Originally a mural artist, then a haunted house make up artist and actor as I've learned, Jason has been in the business now for 15 years and he has been producing some pretty amazing art. On top of all that, it is apparent that Jason really cares about what he does. He makes sure that you are satisfied before, during and after the tattooing. My last tattoo I nearly cried tears of joy because I was so pleased with the finished product.
I have been to Elevated Tattoo twice now and plan on going back for many more. Check out their website and Facebook for Jason's extensive portfolio. Even if you don't have tattoos, or are planning on getting one, (you should be though!), check it out
Obviously. this place is very near and very dear to my heart. If you find yourself needing a weekend trip away from Denver or FoCo, consider Estes. It's far enough away to feel like a whole new world, but close enough to the cities to not eat all of your weekend time traveling and I can guarantee you will not be disappointed.